Blackwood of DC is a commercial concrete contractor serving clients in DC, MD and VA since 2003. The company's services include CIP Concrete, Structural Upgrades, Building Renovations, Site Concrete and Hardscapes.
Blackwood of DC is a Certified Business Enterprise (CBE) headquartered in the District of Columbia. Locally owned and operated, Blackwood offers its clients "big company" production with all the customer service and attention of a small company. We pride ourselves on delivering "Rock Solid Performance" on every project.
---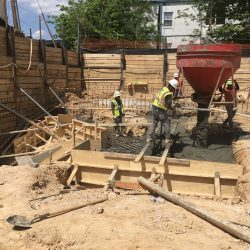 Blackwood of DC would like to recognize and appreciate all of our men and women in the field for their outstanding attention to detail and commitment to excellence that encompass all of our running projects! Thank you all!
– Bryan Wright, CEO